SEPTEMBERS OF SHIRAZ premieres at TIFF
The movie was entirely produced in Bulgaria – script to screen, serviced by Nu Boyana.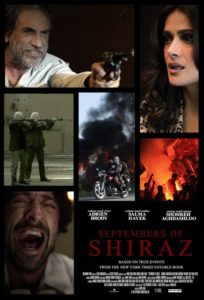 Adrien Brody and Salma Hayek star in this adaptation of the critically acclaimed debut novel by Iranian American author Dalia Sofer, about a secular Jewish family caught up in the maelstrom of the 1979 Iranian Revolution.
"Septembers of Shiraz" will be one of the 15 Gala Presentations at the 40th Toronto International Film Festival!
The Australian award-winning team – director Wayne Blair and cinematographer Warwick Thornton gathered again and with the help of a wonderful cast and crew, created an unforgettable experience for the audience. The project is produced by Millennium Films.